Written by Nonviolent Peaceforce. 
This analysis appears in the Special Issue on Nonviolent Approaches to Security. 
Many languages have only one word for safety and security: "Sicherheit" in German, "seguridad" in Spanish, "sécurité" in French. But in English, we have two distinct words—each springing from a different root and conjuring a different set of connotations. "Safe" comes from the Latin salvus, meaning "uninjured, healthy," while "secure" comes from the Latin securus, "without care."
Colloquially, many people—if not using them interchangeably—use these words to distinguish an external action from an internal feeling, defining "security" as relating to "a group's efforts to protect its members from harm" and "safety" as relating to "a personal feeling of being free from harm or danger."[1]
Due to a broader context of militarism, "security" has become closely associated with military and/or armed approaches to defense and protection. Abolitionist thinker Mariame Kaba defines "security" as "a function of the weaponized state." For her and fellow abolitionists, "safety" "means something else, because you cannot have safety without strong, empathic relationships with others. You can have security without relationships but you cannot have safety—actual safety—without healthy relationships."[2] As NP's Director of Mutual Protection (U.S.) Kalaya'an Mendoza often puts it, "safety is cultivated, while security is enforced."
Many academic definitions distinguish the two based on the level of intentionality behind a danger.[3] To work on "safety" is to protect from hazards like natural disasters, snakebites, or muddy roads—but to work on "security" is to protect from threats that humans have intended. Other scholars further distinguish between "national security" (the defense of a country from military threats) and "human security" (the protection of actual human beings from a range of intended or unintended threats to their well-being)[4]—the latter challenging us to think of "security" as much more closely aligned with common understandings of "safety." Distinguishing between these two forms of security helps draw attention to the way in which human security and national security can actually often be at odds, as the former is often violated in the quest for the latter, with civilians and soldiers alike paying with their lives for the elusive national security gains of military confrontations.
Despite the various definitional disagreements that abound over these words, one question comes into focus: What would it look like to create a world where we and our local and global neighbors feel safe and secure in our daily lives? Whatever these words mean to you—and whether you say "community safety" or "human security"—this special issue asks us to reflect on what it might take for everyone to live free of fear and full of dignity. How might we retrieve security from militarism and ground it in strong relationships instead of fear?
What do "safety" and "security" mean to you?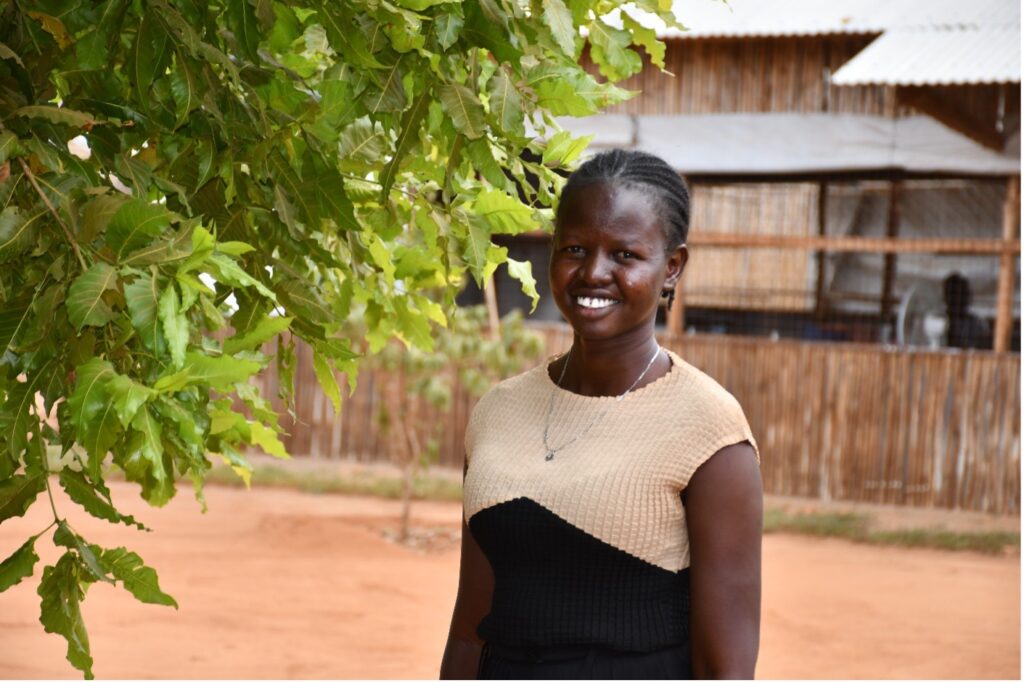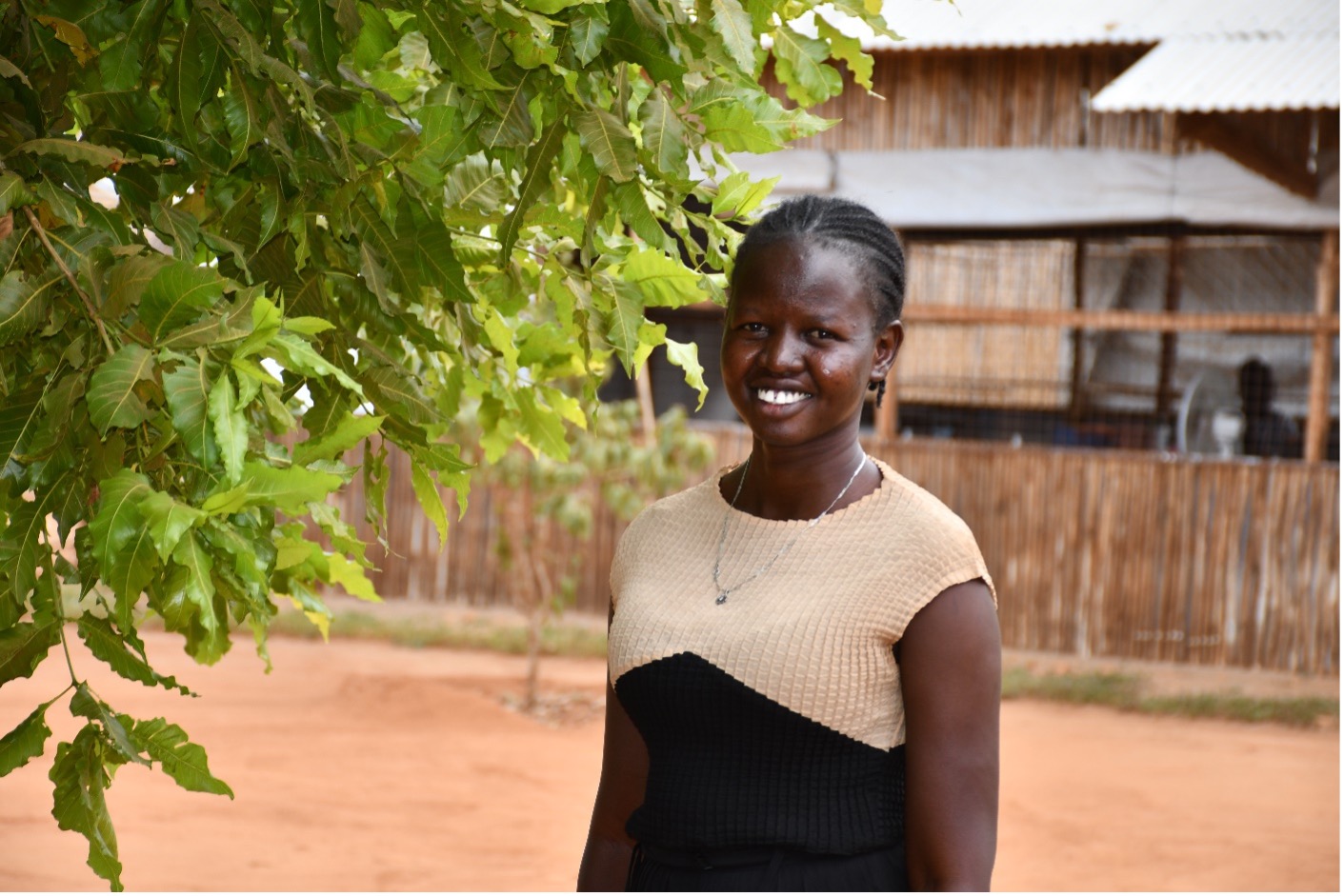 Photo: Nonviolent Peaceforce
Caption: Nyajima Gatkouth started working with NP as a volunteer in 2018 and as a Community Outreach Worker in 2019. She is now a National Protection Officer working with NP in the Juba Protection of Civilians (POC) site, South Sudan.
From hiding her cell phone to keeping her window covered, Nyajima Gatkouth, a National Protection Officer working with Nonviolent Peaceforce (NP), shares how the routine parts of her life are impacted by violence and insecurity in the Protection of Civilians (POC) site in Juba, South Sudan.
When the temperature drops slightly in the evening, residents pull off the plastic sheets covering their windows, letting in air to cool off their shelters, which have been baking in the sun all day.
"In my shelter there is a window and I can fold up the plastic sheet for the air to enter. But for me to be sleeping next to an open window, it's risky," Nyajima says.
At night, some members of the POC site go to each home with flashlights, looking for items to take or even intending to harm people. One night, Nyajima remembers that "some people tore the plastic sheet on my shelter, and they were asking me to come because they wanted to take my phone… My phone was hidden, but then they saw the light."
She was able to convince them to go away that night, but, after that incident, Nyajima now makes a compromise: If she sleeps with the window open, she stays on a mat far from her bed; if she sleeps on her bed, she keeps her window closed.
"[Safety and security] mean a lot to me because I have to make these decisions and tradeoffs about many things, from freedom of how I sleep at night to freedom of movement. After about 6:00 in the evening, I am not able to move outside—it isn't safe," she says, reflecting on some of the reasons why she values safety and security.
But Nyajima finds mutual safety through working at NP alongside Women Protection Teams (WPTs).
These independent, grassroots groups of women use unarmed civilian protection (UCP) methods to protect themselves and their wider communities from violence: protective accompaniment and presence, sometimes alongside NGOs like Nonviolent Peaceforce that specialize in UCP; Early Warning Early Response networks; and collective risk analysis.
"Even in the daytime, because everyone fears for their own safety, people are less likely to help," Nyajima explains. But the NP staff and the WPT members are recognizable as individuals who can help in the community, even when they take their uniforms off at the end of the day, because "they are always out doing awareness-raising, supporting SGBV survivors, or patrolling at the water points and in the Weapons Free Zones."
"For example, because the community sees the WPTs as leaders in the community, the women are called in when there is a need for mediation. Recently, there was an issue at a water point between two groups of people. Some of the women told everyone to stop fighting. It took a week to resolve, but then there was peace. The whole shift in energy was felt across the camp. Not just because the fighting at that water point ended, but because the community saw yet another example from WPTs of how we could find safety in each other, rather than fear."
Nyajima says she has seen UCP creating deep change and stronger sustainability across the POC site. "This is what just a few women can do for an entire area of our community. But the change is multiplied every day: In our camp, there are nine teams and a total of 160 WPT members."
The biggest lesson Nyajima has learned from her experience with NP and WPTs is how to build relationships within a community.
"I used to be very quiet but when I came here, I learned how to be confident, how to build relationships with people," Nyajima shares. "I think that's really important because if we spread knowledge on safety, we will be able to help ourselves and help our neighbors."
After reflecting, Nyajima said she believes the two concepts of safety and security are intertwined. She shared her vision for what a safe future would look like for her: "If I could roll up the plastic sheet at night, if I could sleep next to the open window and feel the breeze instead of the corner of my hot shelter without fear, it would mean safety and security for me. It would mean that I could trust my neighbors. I've been displaced for years, and now the POC is my home. But a safe future would also mean people—families—children—wouldn't have to be displaced in future generations."
Photo: UNMISS/Nektarios Markogiannis
Caption: After the civil war broke out in 2013, people fled to the UN base outside Juba, the capital and largest city of South Sudan, where a displacement camp called a Protection of Civilians (POC) site was later set up. Although the security situation has improved today, almost 31,000 people still call the IDP camp home (Juba IDP Camp 1 and Camp 3 combined).
–
[1] Kassabian, A. (2021, February 26). Differences between "security" and "safety." VOA Learning English. Retrieved July 28, 2022, from https://learningenglish.voanews.com/a/differences-between-security-and-safety-/5791194.html#:~:text=While%20the%20words%20%E2%80%9Csecurity%E2%80%9D%20and,free%20from%20harm%20or%20danger. 
[2] Kaba, M. (2017, November 9). Towards the horizon of abolition: A conversation with Mariame Kaba. The Next System Project. Retrieved July 28, 2022, from https://thenextsystem.org/learn/stories/towards-horizon-abolition-conversation-mariame-kaba.
[3] For instance, see: Jore, S. H. (2019). The conceptual and scientific demarcation of security in contrast to safety. European Journal for Security Research, 4(1), 157-174.
[4] Paris, R. (2001). Human security: Paradigm shift or hot air? International Security, 26(2), 87-102.